COMING EXHIBITIONS
Coming Stone Fair -- MARBLE Izmir 2014
MARBLE 2014 -- Izmir, TURKEY   March 26-29th, 2014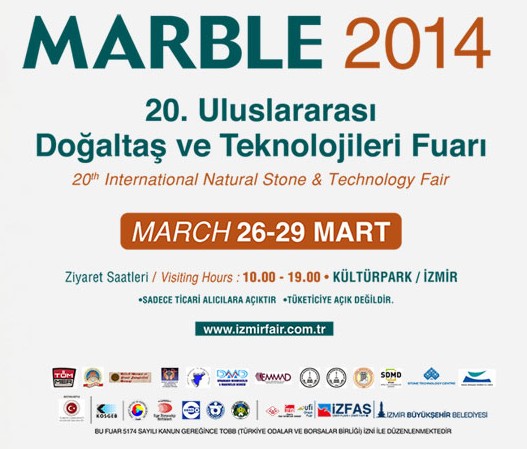 MARBLE,one of the world largest three natural stone fair, is going to celebrate 20th anniversary
The preparation of MARBLE -20TH  International Natural Stone and Technologies Fair which will be held between 26 -29 March 2014,is in progress.
Mr. Mehmet Şakir Örs General Manager of İZFAŞ states; We are enthuiasthic to execute our world brand fair's 20th year of honor.The preparations are still in progress.We are trying to match with all of the applications at extend of the facilities.
Sector's high participation demands, brought new alternatives which can permit maximum utilization of the Kültürpark.The Modular Units will be installing this year, too. We revised our space arrangements in order to maximize quantity of the participants. This year, due to the assignment of Celal Atik Sport Center at Local Elections, all the modular units has been allocated at Sport Center's yard will be removed. In order to prevent our companies umbragements, a new modular hall will be in use at next to 5th Hall.
The New Exhibition Centerhas been schemed by İzmir Metropolitan Municipality in order to develop city in fair sector and to reach world standarts, and the construction is in progress.By this project İzmir will be more closer to reach her target of became City of Fairs and Congress. We are targeting MARBLE FAIR's world leadership whereas Global Natural Stone Sector's a major meeting platform in İzmir every March, with our new fair center, said that Mr. Mehmet Şakir Örs General Manager of İZFAŞ.
4 NEW HALLS WILL BE CONSTRUCTED
As trying to maximize Kültürpark's utilization facilities;we are targeting to match with all of the participation requests at highest rate.
Considering high demand of participation to the fair, space allocations are carrying out according to the demands. 4 new modular halls will be constructed with along of the current 5 indoor areas.
The major concern of the fair is availabilty of free space in Kültürpark whereas number of participants to the fair is constently increasing ,not decreasing. Due to the scarcity in available free space, 300 companies participation demands or space expantion demands could not  met.
MARBLE, FROM PAST TO TODAYS
In 1995, MARBLE FAIR has been organized over 2.600 squaremeter with participation of 47 companies, and has been granted with membership of International Fair Associations (UFI) in 1998. Thereby it's became our nation's first international specialized fair  recognized by world fair authorities. Since the day one to today, fair has been ameliorated  every year, last year 1.182 foreign and local companies has been participated, 77 countries and sectoral representatives from 81 provinces has been visited to the fair.
SECTORAL SUPPORTER INSTITUTIONS
Turkish Marble,Natural Stone and Machinery Manufacturers Association (TÜMMER), Afyonkarahisar – İşçehisar Marble Industrialists  Association,Bilecik Marble and Granite Industrialist Association, Denizli Miners and Marble  Association,Diyarbakır Marble Association,Aegean Exporters' Associations, Elazığ Marble and Miners Association, İstanbul Mineral and Metals Exporters' Associations,Turkish Construction Machinery Distributors and  Manufacturers Association,İzmir Marble Association, İzmir  Chamber of Marble Producers, Muğla Marble Associations, Sivas Natural Stone and Miners Association,Burdur Marble Association
For more details please visit Izmir stone fair website: http://marble.izfas.com.tr/
FULLUX ABRASIVES -- EVERYTHING FOR STONE AND FLOOR POLISHING
Fullux abrasives has good experiences in polishing Turkish marble and travertine,  if you are looking for high quality/price ratio Frankfurt Abrasives Stone for Marble and Travertine polishing, please feel free to email us with your inquiry and question and let us offer you best product solution and prices to help cut your production cost down and get better polishing quality to make your slabs and tiles more competitive in quality and prices. (Fullux Abrasives --  www.fulluxabrasives.com )